October 29, 2018
Apple Coffee Cake Recipe from Rosemary
Posted by: Fabrizio Chiariello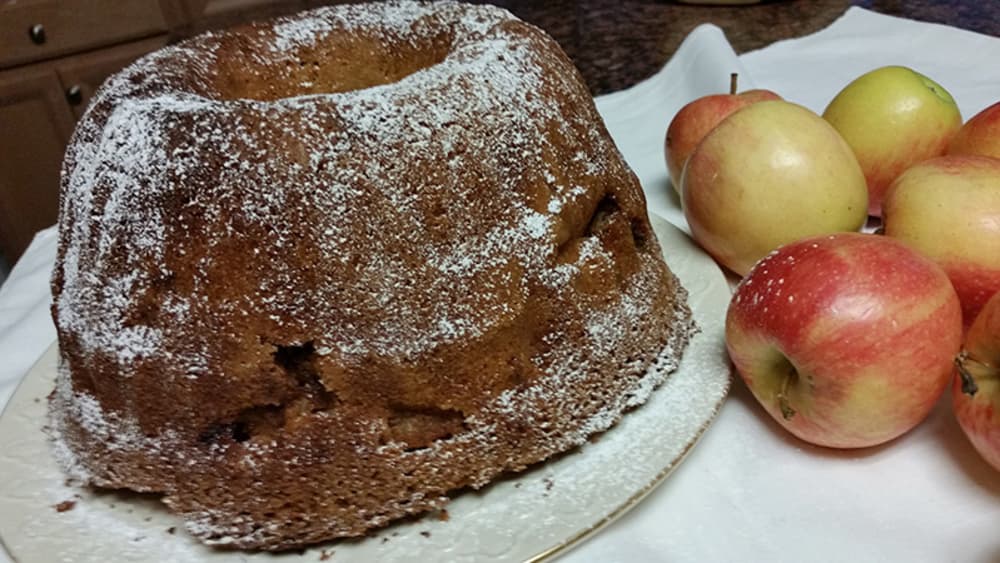 Apple Coffee Cake
Makes 8-10 Servings
4 medium-sized apples (about 1 ½ pounds), peeled, cut into 1/3 inch pieces.
5 tablespoons plus 2 ½ cups sugar
2 tablespoons ground cinnamon
4 large eggs
1 cup vegetable oil
¼ cup orange juice
1 teaspoon vanilla extract
3 cups all purpose flour
3 ½ teaspoons baking powder
½ teaspoon salt

Directions:
Pre-heat oven to 350°F. Oil and flour 12-cup Bundt pan.
Mix apple pieces with 5 tablespoons sugar and ground cinnamon in a medium bowl.
Combine 2 ½ cups sugar, eggs, vegetable oil, orange juice, orange peel and vanilla extract in a large bowl; whisk to blend.
Stir flour, baking powder and salt into egg mixture.
Spoon 1 ½ cups batter into prepared Bundt pan & top with half of the apple mixture.
Cover with 1 ½ cups batter & top it with remaining apples, then batter.
Bake cake until the top is brown and tester inserted near center comes out with moist crumbs attached, about 1 hour and 30 minutes.
Cool cake in pan on rack for 15 minutes & Turn Out.