December 1, 2013
12 Days of Christmas Cookies…. Times 2!
Posted by: Fabrizio Chiariello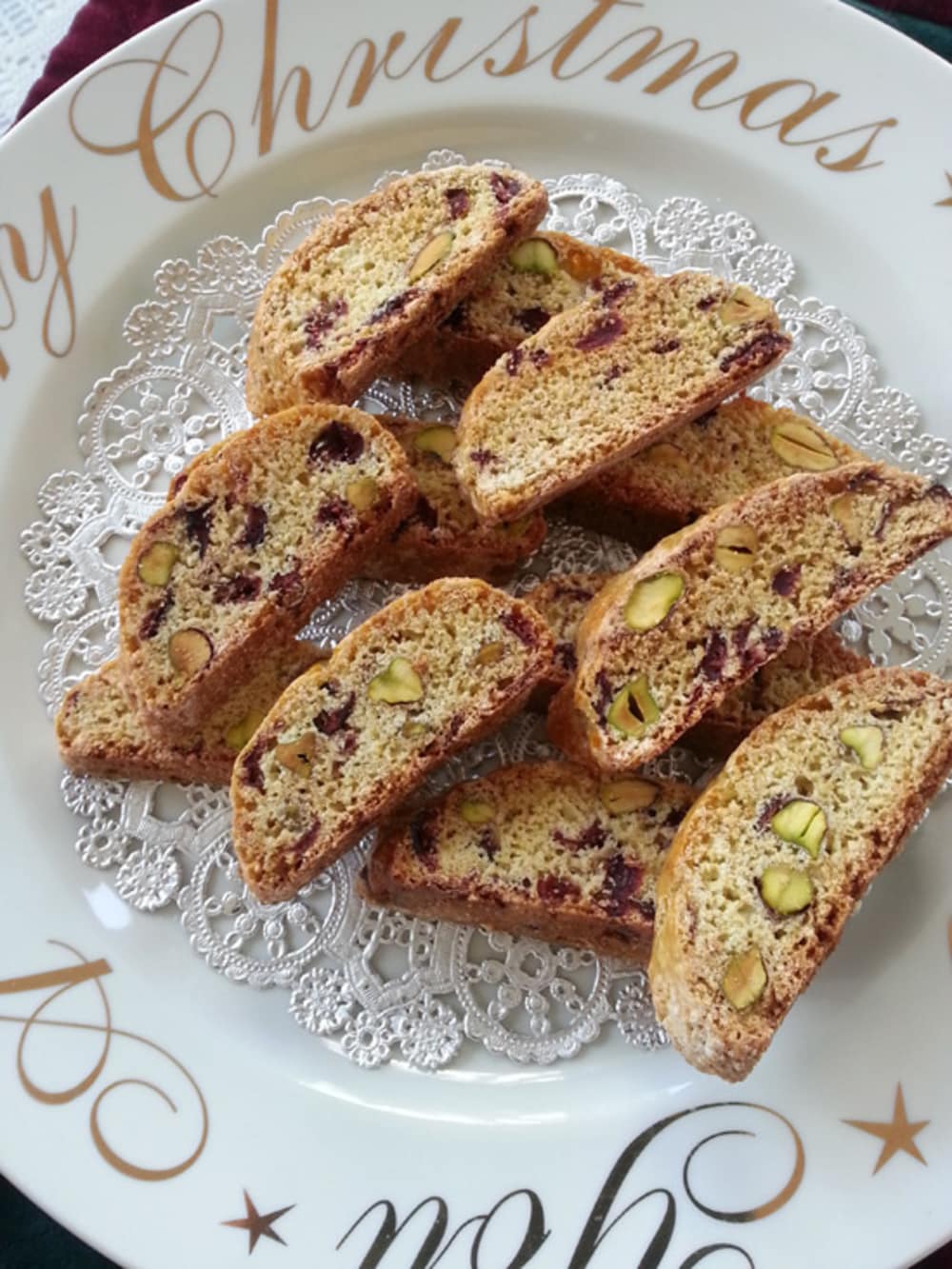 We'll be baking up a blizzard this month as we prepare a Cookie or Holiday Dessert for each and every day up to Christmas! We kicked off the culinary adventure today with Cranberry Pistachio Biscotti and we're going to finish with a sumptuous Tiramisu on December 24th, to finish our Christmas Eve Dinner. We hope you enjoy these recipes as much as we do!
Cranberry Pistachio Biscotti
(Makes about 3 dozen biscotti)
1 1/3 Cups dried cranberries (1/4 lb)
2 ½ Cups unbleached all- purposes flour
1 Cup sugar
½ teaspoon baking soda
½ teaspoon baking powder
½ teaspoon salt
3 large eggs
1 teaspoon vanilla
1 Cup salted shelled natural pistachios
1 large egg, lightly beaten with 1 teaspoon water to make egg wash
• Soak cranberries in boiling – hot water to cover in a small bowl until softened, about 10 minutes. Drain, then pat dry with paper towels.
• Preheat oven to 325 degrees F. Butter and flour a large baking sheet, or use Silpat pad.
• Mix together flour, sugar, baking soda and powder, and salt in a large bowl with an electric mixer at moderate speed until combined well. Add eggs and vanilla and beat just until a dough forms. Add cranberries and pistachios and mix at low speed.
• Turn out dough onto a well-floured surface and knead several times. Halve dough, then form each half into a 13 by 2 inch slightly flattened log on baking sheet, using floured hands and spacing logs about 3 inches apart. Brush logs with egg wash.
• Bake in middle of oven until golden, 25 to 30 minutes. Cool logs on baking sheet on a rack 10 minutes. Transfer to a cutting board and cut diagonally into ½ inch thick slices with a serrated knife. Arrange slices, a cut side down, in 1 layer on baking sheet. Bake in middle of oven, turning once, until golden and crisp, 20 to 25 minutes total.
• Cool completely and serve or store.
• Biscotti keep in an airtight container at room temperature 2 weeks.